Thank goodness for online colleges! Online colleges have opened the gates of higher learning to moms who are eager to go back to school again. Moms now have a second shot at college.
Moms who were not able to complete their college degrees or are planning to enhance their career opportunities are now able to complete or pursue further education while juggling their work and family responsibilities.
How is that so? It's because online colleges offer more flexibility than traditional colleges.
With online school programs, moms can now better balance family, work, and school. (1) This was not the case years ago. Now moms can go back to school without leaving their families behind.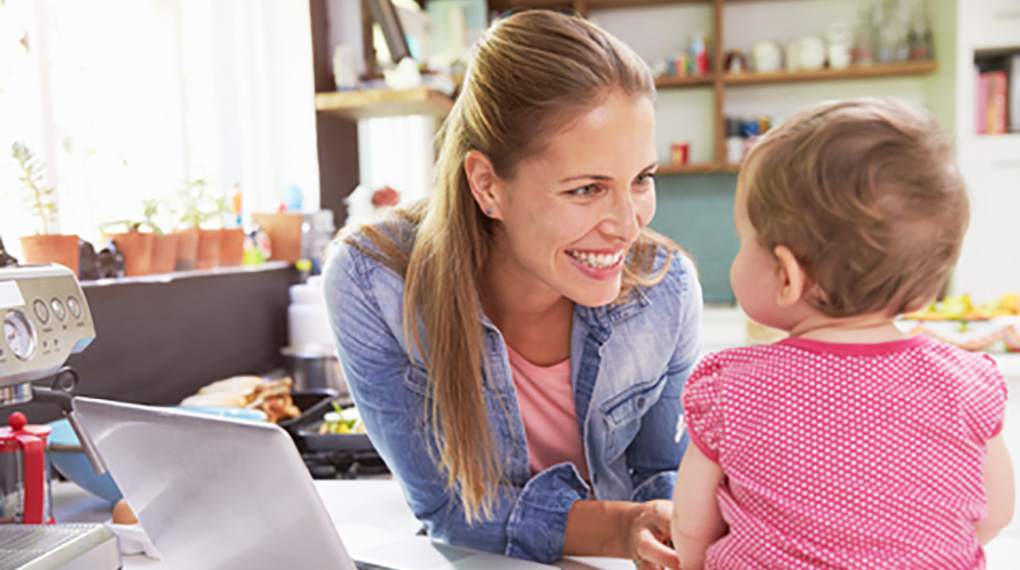 Consider these facts: Women comprise 70% of online school students. Moms account for 71% of all students who are categorized as parents.
Consider these facts: Women comprise 70% of online school students. (2) Moms account for 71% of all students who are categorized as parents. (3)
Flexibility isn't the only factor as to why online colleges are on the rise. The personalized learning environment seems to be as effective as the traditional classroom setting. As a matter of fact, research cited that the learning outcomes from both virtual and traditional classrooms are the same. (4)
Furthermore, unlike a couple of years ago, online colleges have now earned a reputation of credibility as traditional colleges. (5) Employers now understand the value of distance learning especially for those who need to balance the responsibilities and demands of work and family while finishing a degree program.
That is definitely good news for moms who want a second shot at pursuing a college degree. So if you are thinking of going back to college to enhance your career opportunities via an online college program, you are definitely on the right track.
Here's the list of the 12 best online colleges for moms eager to study again.
12. Purdue University Global (formerly known as Kaplan University)
Kaplan University was acquired by Purdue University to form what is now known as Purdue University Global. It offers flexible online college degree programs. Moms can choose to earn a degree in the following areas such as business, health sciences, education, and legal studies; to mention a few. It also offers professional certificates. Purdue University Global focuses on career development and life skills. (6)
11. DeVry University
DeVry University has been educating students for 75 years. It now offers online learning for moms who want a degree in the following courses; Health Sciences, Media Arts & Technology, Engineering &Information Sciences, Business Management, and Liberal Arts & Sciences. Federal grants and aids are available for moms who qualify. In additional to the online learning experience, DeVry offers professional career counseling, internship, and job placements assistance. (7)
10. Liberty University
Liberty University offers 45 degree programs, which means that moms have a lot of options to choose from. For example, they can earn a degree in religion, psychology, and social services. Operating on a non-profit basis, Liberty University offers the lowest tuition rates as compared to the other online colleges. It also offers military discounts and financial aid. (8)
9. Indiana Institute Of Technology
Indiana Institute of Technology offers the kind of flexibility moms are looking for. Since online classes start every five weeks, moms have ample time to prepare. At the same time, they won't have to wait too long to start. This kind of flexibility is the reason why the Indiana Institute of Technology is the ideal school for working adults like moms. (9)
8. Davenport University
Davenport University is ideal for moms with previous college credits. They won't have a hard time transferring their credits. There's a lot of flexibility in their online programs, which moms will really appreciate. Hence, is the reason why 56% of their students are enrolled online. (10)
7. Post University
Post University boasts of accelerated programs perfect for moms who are in a hurry to complete their degree. Moms can avail of their 8-week courses and still earn the same degree acquired by traditional students. Moms can choose from a long list of degrees Post University offers, which includes Criminal Justice, Marketing, Management, Health and Wellness, and Nutrition Science. (11)
6. Pierce College
Pierce College is one of the oldest colleges, founded right after the Civil War. It initially offered training to ex-soldiers, who wanted to go back to work. Eventually, it enrolled 300 women seeking to experience higher education. This, of course, was unheard of at that time. Nonetheless, it is one of the first colleges that gave women the opportunity to learn further. Pierce College offers complete online school degrees that moms could easily take advantage of. (12)
5. NorthCentral University
NorthCentral University is a 100% online school. It's perfect for students who don't want to relocate to pursue a degree. The University takes pride in its "One-to-One Learning Model" where a student is paired with one of their prestigious faculty members to create a more personalized learning experience. Needless to say, the flexibility and the One-to-One Learning Model are the two things moms will surely appreciate about this online school. (13)
4. Thomas Edison State University
Formerly known as Thomas Edison State College, Thomas Edison State University is one of the oldest learning institutions in the country. The school caters to adults who want to pursue higher education at their own time and pace. Most of the coursework at the Thomas Edison State university can be completed online, which makes it a very good choice for moms who want to go back to school. (14)
3. Excelsior College
Excelsior College is dedicated to meeting their students' needs. They aim to reach their students geographically, offering a wide range of online classes such as the following: Health Sciences, Business, Nursing, Liberal Arts, Public Service, and Technology.  Excelsior College is committed to provide quality education to adult learners. Excelsior remains to be one of the top choices of non-traditional students. (15)
2. University of Phoenix
University of Phoenix meets the hectic demands of the working adults through their flexible online school programs. That's the reason why University of Phoenix ranks high among the many online colleges available out there. Moms can complete their bachelor's degree at their own pace. University of Phoenix also provides counselors who can guide moms through their online program. Furthermore, there is a University of Phoenix campus in a lot of state areas. (16)
1. Charter Oak State College
It's understandable why Charter Oak State College tops the best online college. Non-traditional students, like moms, appreciate their transfer policy that's very flexible. For moms, who have already earned a couple of college credits, Charter Oak State College is the best choice. They honor all college credits that have been previously earned, regardless of the length of time that has passed. They also offer a wide range of online degrees, certificate, and credential programs. Moms definitely have a lot of options with this top online college. (17)
For moms who want to continue pursuing their college degree, it's really never too late. There are various online school programs that moms can now enroll in to help achieve their dreams.
Aside from other important factors such as reputation and accreditation, flexibility is a critical aspect for moms when it comes to choosing an online school.
Fortunately, there are now a lot of resources online that can help moms choose the right online school. Moms just need to spend some time researching on the internet to find out which online school suits them.
The list is taken from all the sources cited and is ranked according to the accreditation, reputation, and flexibility of the online school program.